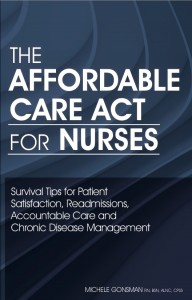 "The Affordable Care Act for Nurses" is Michele Gonsman's latest book that provides survival tips for Patient Satisfaction, Readmissions, Account Care and Chronic Disease Management.
The book takes a candid look at the consequences of the Affordable Care Act, and how its implementation has been affecting not only nurses, but the healthcare providers in general.
Michele goes beyond the ACA basics, and delves into patient satisfaction, preventable readmissions, chronic disease management, and value based purchasing. She explains the concept of Accountable Care Organizations, Patient Homes, and the shift from a fee based payment structure to outcome based reimbursement.
Throughout the book are critical thinking nuggets, and challenging thoughts from a unique perspective. The reader will be able to take the real life suggestions in this book, and impact their practice and adapt to the changing healthcare environment.
Order your copy at Amazon.com.